1
« on: December 04, 2017, 10:20:08 pm »
EA Version: 12.0.1215
Another newbie question:
Most diagramming conventions i'm aware of include the idea of labelled connections as a way of avoiding over-long connectors snaking across distant parts of a diagram. This includes UML-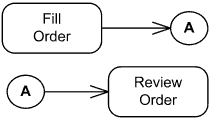 As far as I can tell EA doesn't have this capability. That seems like a surprising omission. I've scanned the forum but haven't found any discussion of this point.
I imagine you could fudge this, visually, using circular elements like ActivityInitial/Final or maybe Interfaces, but that would break EA's ability to treat this connection like a normal point to point relationship.
Is there a way round this? If not, has it been requested as an enhancement?